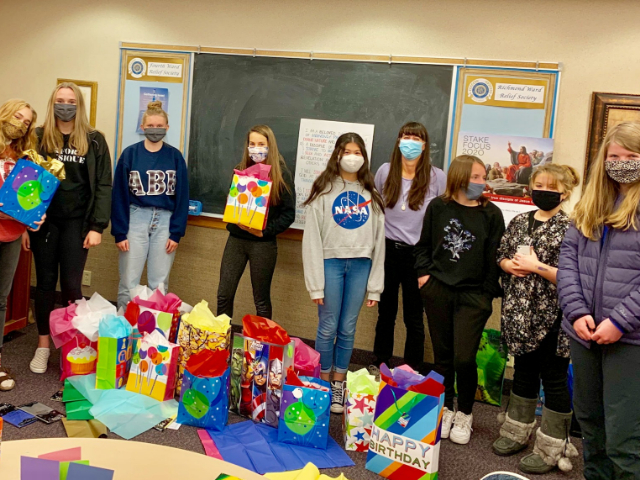 In the middle of a global pandemic, members of The Church of Jesus Christ of Latter-day Saints celebrated the sesquicentennial anniversary of the Church's Young Women program. Though it was not possible to celebrate together, members of the Calgary Alberta Stake came up with a creative solution to safely involve the youth and simultaneously serve the community in a time of great need — creating birthday bags for the Calgary Food Bank.
The idea stemmed from an invitation called "My 150" extended by the Young Women general presidency. To commemorate the sesquicentennial, young women around the world were invited to set a goal related to the number 150, such as sending 150 encouraging texts or social media posts, reading 150 pages of scripture or delivering 150 treats to neighbours.
That's when Maria Johnson, the Calgary Alberta Stake Young Women president, remembered the Calgary Food Bank's Birthday Party Kit Initiative, which supports children in the community who might not otherwise enjoy the luxury of a birthday party. Volunteers are invited to put together gift bags filled with items — like cake mix, party supplies and a toy — that could help parents make their child's birthday special.
All the women and young women in the stake were invited to assemble the bags. They hoped to make 150 birthday bags for children in need — they surpassed that goal by completing 196.
"Research has shown that children can miss holidays like Christmas or Easter, but not being able to celebrate your birthday has longer-term ramifications for children," said Calgary Food Bank communications representative Shawna Ogsten. "This will go a long way for kids to build their resilience and to become amazing members of society."
The project was an incredible opportunity for the young women to serve others. Johnson said it was special to see participants assemble their bags while keeping in mind the children who would receive them. She indicated the young women were following the example of Jesus Christ, who served others one by one throughout his ministry on Earth.
"The young women are at that age … [when] birthdays are important and exciting. It was an awesome service opportunity for the girls to be in on because they know what birthday parties are like and how exciting they feel," said Johnson. "As [the participants] were putting together their bags, they were thinking about that one special child who will feel special when they get that bag and know that somebody was thinking about them."
---
Los artículos de esta sección no son oficiales pero han sido tomados de una fuente confiable y acreditada. La traducción es automática y puede dejar mucho que desear, sin embargo, a pesar de estas deficiencias, se ha realizado un esfuerzo para poner la información al alcance del público de habla hispana. Para ver el artículo completo original en inglés, consulta la siguiente Fuente: http://news-ca.churchofjesuschrist.org/article/global-pandemic-inspires-young-women-to-celebrate-150-years-through-service