As the threat of COVID-19 continue to affect families in the country, Latter-day Saint Charities, the humanitarian arm of The Church of Jesus Christ of Latter-day Saints, provided assistance to local government units in the form of donations of medical supplies to assist cities and municipalities in their fight against the pandemic.
In June, four major cities in the National Capital Region or Metro Manila became recipients of LDSC's global COVID-10 relief efforts.
QUEZON CITY, 22 June 2020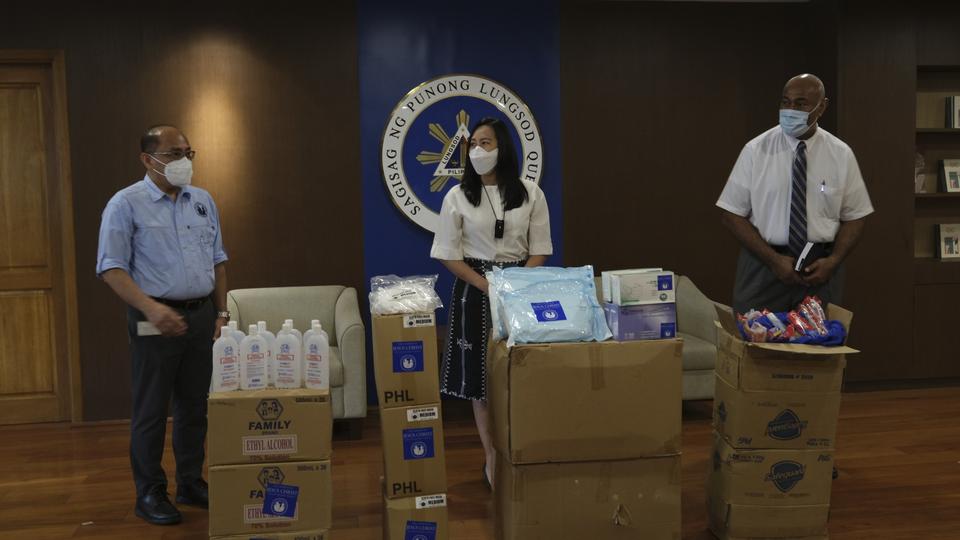 Hon. Joy Belmonte, Mayor of Quezon City, expressed gratitude to the Church's humanitarian arm for including the city as one of the recipients.
At the onset of the pandemic, Quezon City had the highest number of COVID-19 cases in the country. Although it was able to see a slight decline at one point sometime in May, the government is monitoring the city once again due to the spike of cases.
Mayor Belmonte assured LDSC that the supplies will be distributed to hospitals and communities where they are most needed.
Present in the turnover were Elder Taniela B. Wakolo, General Authority Seventy; President Emelito Reymund Orencia, Quezon City Philippines Stake (diocese); Anthony John Balledos; LDSC Representative; and Vivian Reamon; a Latter-day Saint member.
SAN JUAN CITY, 22 June 2020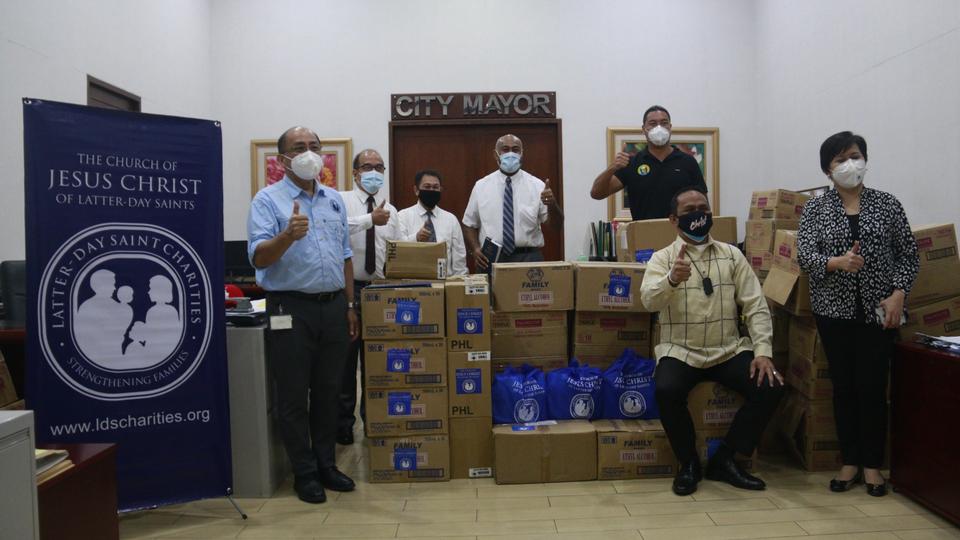 The demand for personal protective equipment or PPEs continue to increase with COVID-19 cases continue to rise in the city.
To help the city control the spread, especially in hospitals where doctors, nurses and healthcare workers are most vunerable to infection, LDSC delivered supplies to San Juan City.
In a simple turnover ceremony, Hon. Francis Zamora, City Mayor of San Juan, received the donations which consisted of 500 packs of hygiene kits, 600 bottles of 70% isopropyl alcohol, 1,000 pairs of medical gloves, and 80 pieces of PPE gowns.
Present in the small-scale turnover were Elder Taniela B. Wakolo, General Authority Seventy; Anthony John Balledos, LDSC Representative; President Noel Placer, Mandaluyong Philippines Stake President; and Carlos Parada, Jr., a Latter-day Saint from San Juan Ward (congregation).
Mayor Zamor expressed his appreciation for making his city one of the recipients of LDSC's donations and assured that they will distributed to frontliners and hospitals within the city.
MUNTINLUPA CITY, 25 June 2020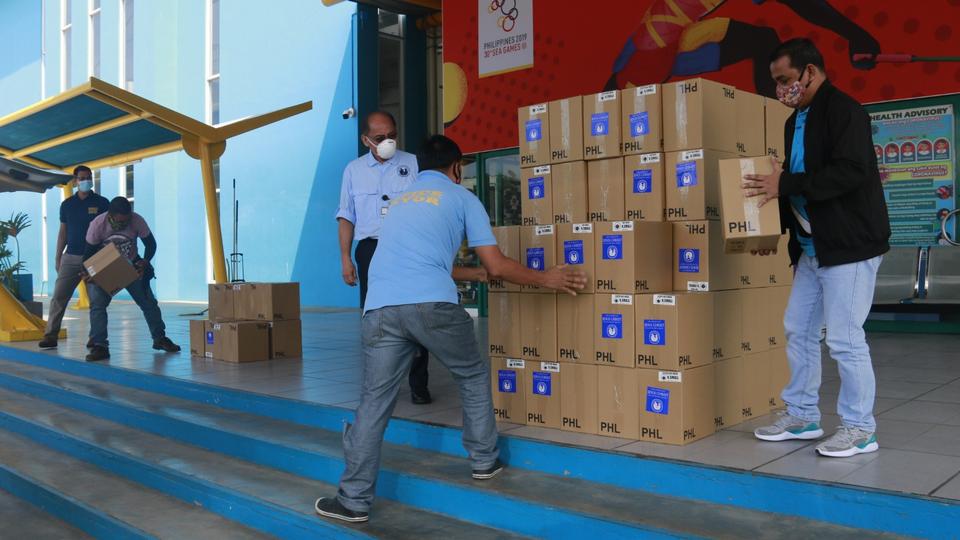 Although the city has seen a decline in the number of COVID-19 cases, the city government remains resolute in their efforts to decrease the transmission of the disease.
To assist them in their efforts, Latter-day Saint Charities delivered a total of 100,000 pieces of community face masks. These masks are produced by Beehive Clothing Philippines, which is an affiliate company of the Church that has temporarily shifted their production from religious clothing to cloth masks.
During a small turnover ceremony, Anthony John Balledos, LDSC representative, and President Raymond Vicente, Las Piñas Philipines Stake President, presented the items to Hon. Jaime Fresnedi, City Mayor of Muntinlupa, and Allan Cachuela, City Administrator.
Both city officials received the donations and expressed their gratitude to the Church and LDSC for donations. They both assured that cloth face masks will be distributed to Muntinlupa residents, especially those residing in depressed and heavily affected areas.
PASAY CITY, 29 June 2020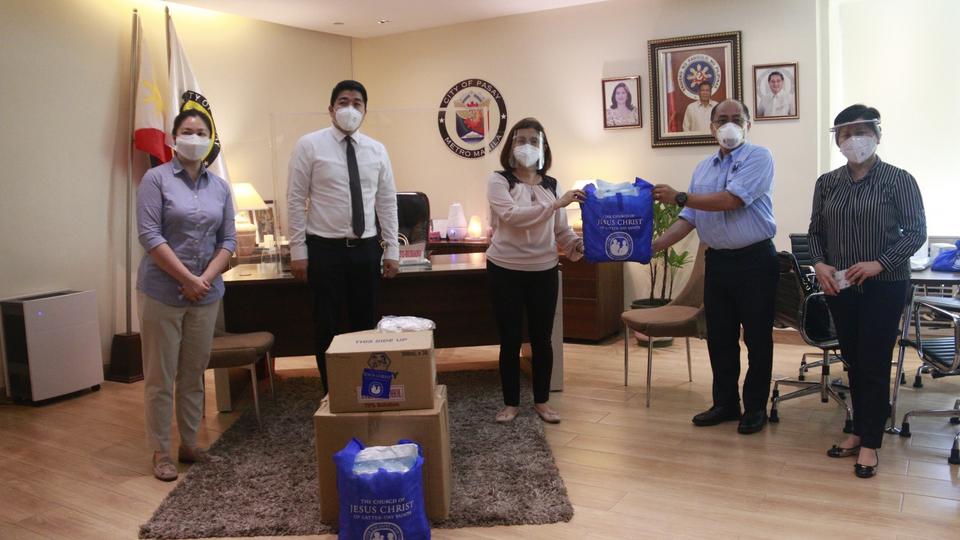 As one of the highly urbanized cities in Metro Manila, Pasay is one of the cities that has the hardest hit of COVID-19 cases. In support of the local government's effort to control the spread of the disease, LDSC turned over medical supplies to the city.
On behalf of the residents of Pasay City, Mayor, Imelda Calixto-Rubiano received the items with deep gratitude.
In a small and simple turnover ceremony held inside the Office of the City Mayor, Pasay Philippines Stake President Bryan Borela and wife Johanna Borela, as well as LDSC representative Anthony John Balledos presented 2,000 surgical face masks, 80 PPEs, 500 pairs of medical gloves, 500 hygiene kits and 600 bottles of 70% isopropyl alcohol to the Mayor Calixto-Rubiano.
The items will be distributed to medical and healthcare frontliners in the city.
About Latter-day Saint Charities
One of the core projects of LDSC is to provide emergency response in times of calamities or disasters. As families and individuals from around the world continue to be affected by the pandemic, the LDSC has participated in the global relief effort. Project included donating medical supplies in 57 countries to help medical and healthcare frontliners.
---
Los artículos de esta sección no son oficiales pero han sido tomados de una fuente confiable y acreditada. La traducción es automática y puede dejar mucho que desear, sin embargo, a pesar de estas deficiencias, se ha realizado un esfuerzo para poner la información al alcance del público de habla hispana. Para ver el artículo completo original en inglés, consulta la siguiente Fuente: http://news-ph.churchofjesuschrist.org/article/latter-day-saint-charities-hands-over-supplies-to-4-ncr-cities-amid-covid-19