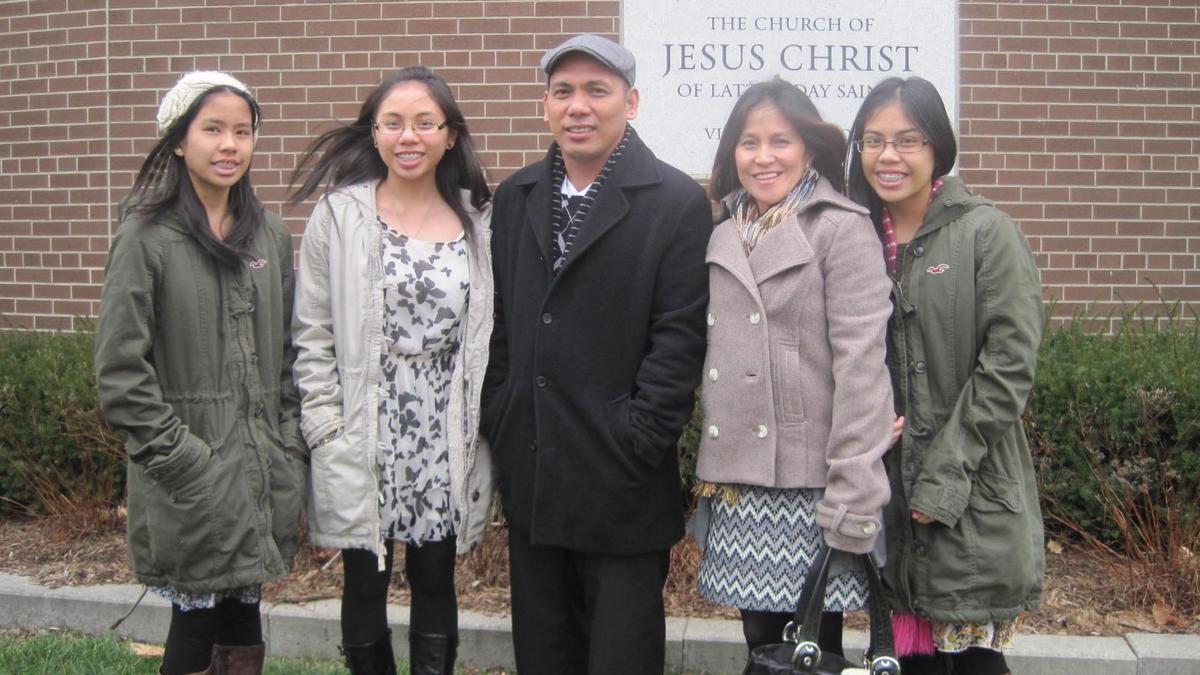 Fatherhood is leadership, one of the most important kinds of leadership. "It has always been so; it always will be so. … It is not a matter of whether you are most worthy or best qualified, but it is a matter of [divine] appointment" (L. Tom Perry, "Fatherhood, an Eternal Calling," Apr. 2004 general conference).
The concept of a united family that lives and progresses forever is at the core of Latter-day Saint doctrine. "The Family: A Proclamation to the World" states, "By divine design, fathers are to preside over their families in love and righteousness and are responsible to provide the necessities of life and protection for their families." Fathers in The Church of Jesus Christ of Latter-day Saints continue to fulfill these obligations amid the COVID-19 pandemic.
Theo Gibb, a Calgary, Alberta, father of twin boys, was inspired to save money and stock up on food prior to the closures, shortages and his eventual job loss. "Spending more time at home has been wonderful," he said. "I've had more time to connect with my spouse and children in ways I was unable to while working full time." He feels that this greater connection helps him strive to be the best protector and provider he can be.
Latter-day Saints believe that faithful men use the power of the priesthood (God's power and authority) to protect their homes. Former apostle Elder Boyd K. Packer (1924–2015) taught, "There will be times when all that stands as a shield between [one's] family and the adversary's mischief will be that power" ("The Power of the Priesthood," Apr. 2010 general conference).
When international borders were closing, Marc Officer's eldest son returned home to Langley, British Columbia, from a proselyting mission abroad. Officer said, "I think an interesting part about this pandemic experience has been the slower pace of life. [Now with all the kids around], to have time to just be home has been great. I have really enjoyed having more time with my family."
The Church of Jesus Christ of Latter-day Saints functions through the unpaid volunteer ministry of its members, who often spend anywhere from five to 30 hours a week voluntarily serving. Officer serves in his local stake presidency and typically attends several Church meetings each week. In March, in-person meetings were suspended due to COVID-19. Despite all other challenges, Officer noted that he appreciates that the commuting time he saves — because he currently attends his Church meetings online and works from home — gives him more time to spend with his family.
In Scarborough, Ontario, Jaime Fernandez remains physically separated from his two eldest daughters, who live in Alberta. However, he maintains his relationship with them through technology. Further, he has experienced job loss and financial hardship due to COVID-19. Yet, as bishop of his ward (local congregation), a father of sorts, he reaches out to members and helps those in need.
"I see how Heavenly Father blesses us — increasing my testimony and spiritual power as I seek Him in these trying times. … [This experience] convinces me that President Russell M. Nelson is our prophet and [that he] prepared us for this inevitable circumstance. I'm truly grateful to know that our Heavenly Father is in control of everything."
Kullervo Hynynen, president of the Toronto Ontario Stake, adds, "These times of pandemic are definitely challenging for fathers. However, Heavenly Father has given fathers every resource and power to be successful. If we will draw close to Heavenly Father, recognize His hand in our daily lives and keep ourselves worthy of the Spirit, we will know how to best guide and strengthen our families. We will feel peace and joy despite trials, and we will be able to help our families feel the same."
Contributed by Courtney Stringham
---
Los artículos de esta sección no son oficiales pero han sido tomados de una fuente confiable y acreditada. La traducción es automática y puede dejar mucho que desear, sin embargo, a pesar de estas deficiencias, se ha realizado un esfuerzo para poner la información al alcance del público de habla hispana. Para ver el artículo completo original en inglés, consulta la siguiente Fuente: http://news-ca.churchofjesuschrist.org/article/latter-day-saint-fathers-respond-with-faith-to-covid-19-challenges