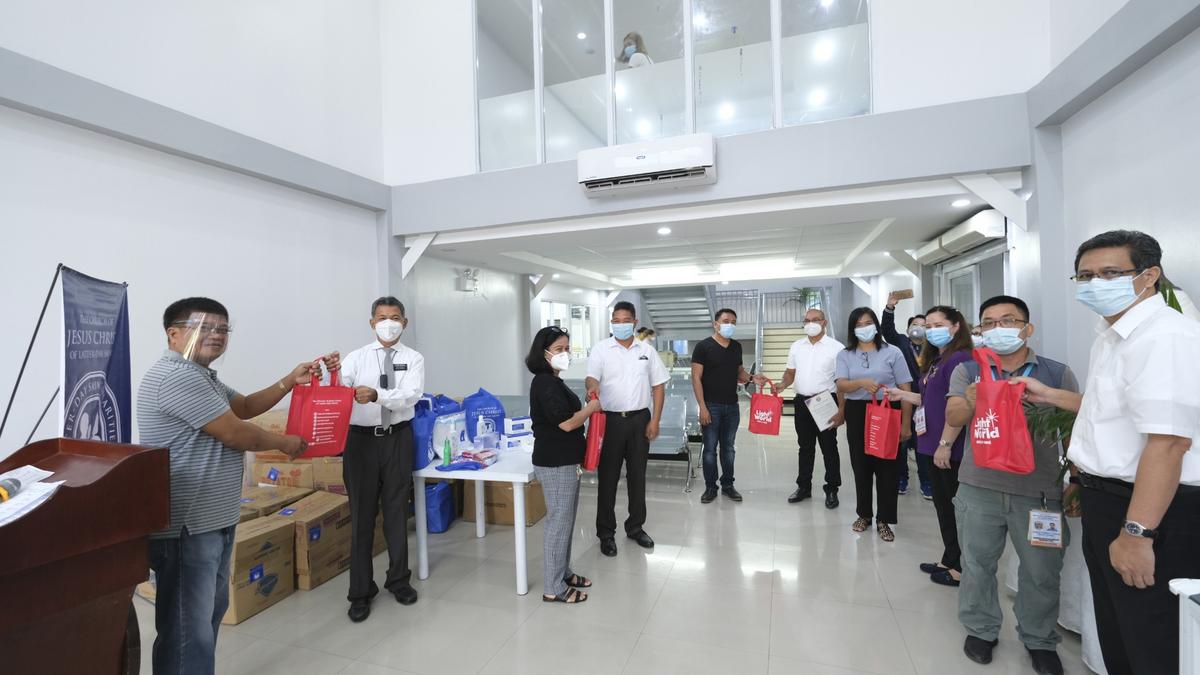 As part of the Church's global humanitarian effort in the fight against COVID-19, Latter-day Saint Charities turned over medical supplies to the local government unit of Santa Cruz, Laguna last 23 July 2020.
Mayor Edgar San Luis of Santa Cruz, Laguna, signed the Deed of Donation of medical supplies from LDSC, during a short, small-scale handover ceremony. The medical supplies consisting of PPEs, facemasks, medical gloves, bottles of alcohol, and hygiene kits were picked up from the Naval Reserve Command in Intramuros, Manila on 28 July 2020, thru the kindness of Lt. Dabi and her staff.
Those who witnessed the event were President Roland A. Garcia of Santa Cruz, Laguna Philippines Stake (diocese), Wednesto M. Cortez, a member of the Stake High Council; Cecile C. Cortez, Stake Communication Representative, and Engr. Maria Lourdes San Miguel, Municipal General Services Officer.
Furthermore, the medical supplies were turned over the day after at the Office of the Mayor headed by Melvin O. Bonza, Municipal Administrator; Dra. Clare Fadul, Municipal Health Officer V; Dra. Elmina Monteza, Municipal Health Officer III; Maricel C. Ramos, Communications Affairs Officer III; Engr. Maria Lourdes San Miguel, Municipal General Services Officer; and Joshua Frederick Vitaliz, Municipal Disaster Risk Reduction Management Officer. Representing the Church were Anthony John Balledos, Latter-day Saint Representative; Danilo Soleta, Area Communication Specialist, President Roland A Garcia; President Michael Oliver Gomez, Stake First Counselor; and Cecile Cortez.
On behalf of Mayor Edgar San Luis, Municipal Administrator Melvin Bonza personally thanked the Church and LDSC for the generous donation and presented a token of appreciation to the Church. "Your organization has always been our partner, willing to extend help during crisis and calamities, especially at this time of the pandemic," he said.
Style Guide Note:When reporting about The Church of Jesus Christ of Latter-day Saints, please use the complete name of the Church in the first reference. For more information on the use of the name of the Church, go to our online Style Guide.
---
Los artículos de esta sección no son oficiales pero han sido tomados de una fuente confiable y acreditada. La traducción es automática y puede dejar mucho que desear, sin embargo, a pesar de estas deficiencias, se ha realizado un esfuerzo para poner la información al alcance del público de habla hispana. Para ver el artículo completo original en inglés, consulta la siguiente Fuente: http://news-ph.churchofjesuschrist.org/article/ldsc-donates-medical-supplies-to-santa-cruz-laguna-lgu